What are the Common Oven problems?
What really are the common oven problems that may encounter? The modern home is equipped with a diverse range of culinary appliances, and while your options are virtually endless, practically all homes include an oven. Ovens give the baking and steaming power required for a variety of delectable meals and sweets, but your oven will not be able to perform cooking duties if it is not properly maintained.
Ovens give the baking and steaming power required for a variety of delectable meals and sweets, but your oven will not be able to perform cooking duties if it is not properly maintained.
8 OF THE MOST COMMON OVEN REPAIR PROBLEMS
There are numerous common case and issues with oven repairs that you could run into. Like unusual oven temperature. Although you might prefer to handle things yourself, you should think about seeking advice and instructions from a reputable appliance repair service if you want the finest outcomes. In this article we've developed a number of typical oven repair issues and common oven problems as well as information to assist and guide you in identifying any problems you might be having.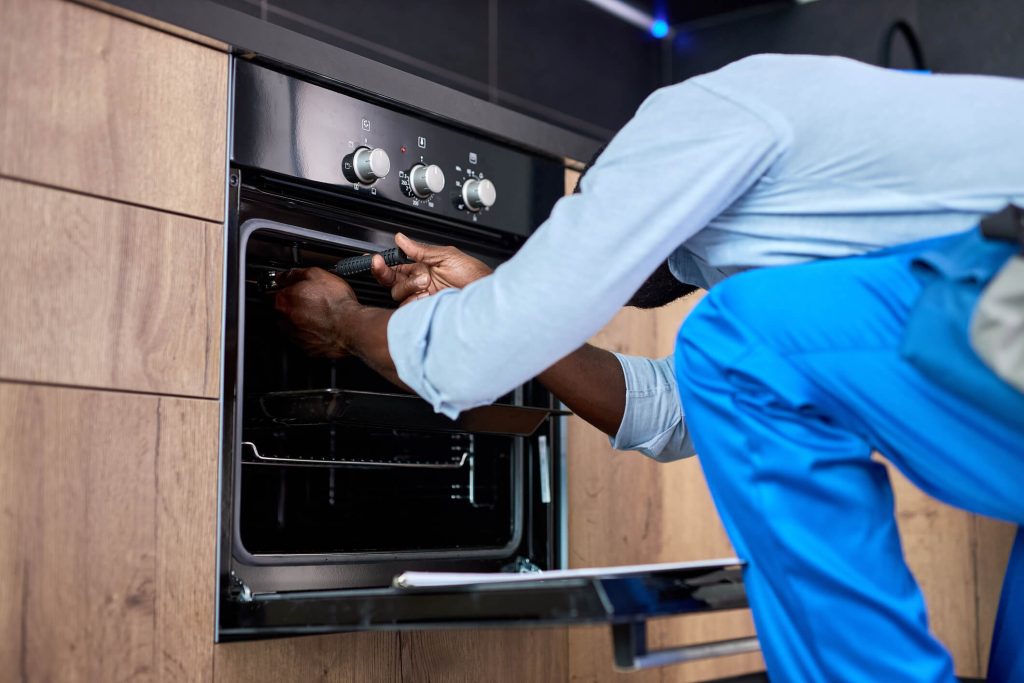 1. The Oven Won't Turn On
Major kitchen appliances types like refrigerator, convection oven, and dryer should each have its own circuit to help prevent breakers from tripping. Nevertheless, make sure the connection to appliances is plugged in and check the fuse or socket box for crossed circuits before beginning your troubleshooting process.
Numerous problems could prevent the oven from powering on even if it is receiving power. A broken wiring, a defective thermostat, a baking or broiler element, or an insufficient supply of electricity are all typical issues with electric ovens. A bad gas regulator, igniter, or valve are conventional gas oven issues. Doing it with only a screwdriver is not advisable. You must leave the repair to a technician since examining these problems puts you in danger of having an electric shock since you don't have experience and you don't have resistance to an electric shock.
2. The Oven Light Is Defective
In addition to adding convenience, an oven light allows you to check on meals without accessing the oven and interfering with the cooking process. A broken oven light can be very inconvenient.
The light bulb in your oven will typically need to be changed to address this issue. However, if you change the bulb and the issue persists, your oven may have a malfunctioning light switch, wires, or control circuits system. Without the necessary training, fixing these kinds of electrical issues can be challenging and dangerous, so it's better to get assistance from an appliance repairman.
3. An oven that doesn't heat up
The primary purpose of your oven is to prepare food for cooking and baking cake, so any oven that does not do this is obviously not working properly. Even if it may appear to be a serious issue, there could be some straightforward causes for it.
A broken gas line and gas igniter may be to blame for the reason, because of a gas oven that won't heat. By checking one of the cooktop burners and burner socket on a gas cooking range, you may see whether there is a cap problem with the igniter. You should hear multiple clicks as your tips when you attempt to light the burner grate before everything the gas ignites. You should replace your unit's igniter if there are no clicks and your gas doesn't ignite.
Due to the appliance's igniter being inside the oven, assessing an igniter in a wall oven may be something more difficult. This test typically calls for assistance from a professional appliance repair company to finish the job.
You can visually inspect the preheating element in an electric stove to determine if they are blazing red. They need to be changed if they aren't glowing.
4. Oven Doesn't Heat to the Proper Temperature
An oven that doesn't even reach the proper temperature readings and temperature dial will lengthen cooking periods and result in undercooked food. This issue is often caused by a defective oven temperature sensor and control module that may also require minor replacement or maintenance.
The oven's internal temperature sensor measures the heat produced by the device, preventing overheating. In order for the sensor to accurately monitor inside temperatures, you need to make sure that it is not hitting the oven wall. If it isn't in contact with the wall, then you can use an ohmmeter to check the sensor's functionality. If you're unclear about how to do it, make sure to seek the advice of an experienced oven experts.
The calibration of the total oven thermometer may potentially be off. You might require expert servicing to reset the appliance if all of the heating element, fuses and igniters in your oven are operating properly and the temperature sensor doesn't seem to be damage or malfunctioning.
5. The food Does Not Cook Evenly in the Oven
An oven that doesn't cook food properly can be very aggravating because ovens are designed to deliver consistent and uniform heat to bake and broil. This issue is frequently related to difficulties with the heating components or temperature sensor, just like many typical oven problem and repair concerns.
To check if the heating components are light or glowing, you should first preheat your oven. Try out your temperature sensor to see whether it works. The sensor and heating elements should be replaced if you detect any issues.
If you don't see any issues with your oven's parts, you might only need to move your oven racks around or buy new cookware. Unevenly cooked dishes can be transformed into evenly prepared masterpieces by making minor changes to how you operate your oven. You should contact a reputable appliance repair agency if your adjustments don't seem to be working and all of your oven's component are seemingly in good working order.
6. Unable to close the oven door
Of course, you want your oven door knob to work properly. The good news is that this issue may be resolved rather easily. An oven door which won't shut is a pretty common repairs issue.
Changing the knob and hinge screws on an oven door will frequently make it seal. Check the knob and hinges on your door to see if they are operating correctly; if not, they need to be replaced. Other factors that contribute to oven door issues include the gasket that line the inner edges of the oven door or the door springs that certain models use. Although these components are simple to replace, expert oven service and repair will guarantee that the task is done correctly.
7. The Oven isn't Self-Clean
The majority of ovens on the market today have a self-cleaning capability, which helps you save time on equipment upkeep and cleaning.
There are many reasons why your oven's self-cleaning feature can malfunction. A malfunction with the door lock motors and switch assembly is one frequent cause. The door lock switch turns on the door lock motor throughout a self-cleaning cycle to keep your oven shut for the duration of the cycle.
A malfunctioning door lock system prevents an oven from self-cleaning. Although you can check the oven doors and motor personally, a professional should really do this.
A faulty oven control board or your temperature sensor may potentially be the cause of self-cleaning issues. Defective wiring and malfunctioning timer are other frequent signs or reasons for this problem. Self-cleaning appliance issues might have a plethora of potential reasons, so it's best to seek advice from qualified appliance specialists to take place.
8. A Broken Rack in The Oven
There is no justification for your oven racks to collapse while they are being used, and while a collapsed oven rack may appear inconsequential, it may indicate a more serious issue.
Oven racks should only fall if they have been cracked or if there is an issue with the interior of your oven. The interior of an oven might become damaged or twisted over time to the extent where your racks do no longer work and fall once you adjust their position within the oven liner. A repairman can take care of interior issues with your oven if your appliance warranty will cover them.
If you don't have a warranty and this steps requires extensive and pricey repair problems, it might be preferable to just buy a new oven. Consider looking through this online collection of high-quality ovens if you want to start replacing your oven.
Professional Oven Repair Service is available for Modern Homes
Your kitchen needs a functioning oven, and you shouldn't have to put up with one that isn't productive or efficient. To guarantee that your appliance functions properly, have it serviced by a factory-certified technician who is skilled at identifying and resolving typical oven readings and issues.
You might want to think about getting help from a reputable home appliance repair service for the ideal oven repair outcomes and fix your problem.
So if your a homeowner that is looking for a way to fix your oven and other appliance repair solutions, We at AAA Appliance Repair West Palm Beach is here for you.
If you have questions, give us a call or schedule a service appointment. Our skilled and experienced technicians will be happy to help you identify the problem and fix your appliances to get them back in working order.
For more information on how https://theappliancepeople.com/ can help you on Oven repair problems, please contact us at (561) 689-8885, or visit us here:
AAA Appliance Repair West Palm Beach
1273 S Military Trail, West Palm Beach, FL 33415, United States