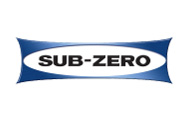 We are Sub-zero Appliance Repair and tune-up Experts in West Palm Beach, Florida
When your looking for a highly trained  Subzero repair company look no further than AAA Appliance Service.  We have been servicing the Palm Beach County & North Broward County for 35 years.
Tips for built-in refrigerators such as Sub-zero, Viking, Thermador, Bosch, Miele, Kitchen Aid, GE Monogram, Liebherr, Gaggenau. Marvel and others require yearly servicing / cleaning of the condenser coils.
These refrigerators look awesome in West Palm Beach West Palm Beach due to being "Built in" to a cabinet for a sleek appearance with no protrusion into the kitchen. Because of their built-in design, the coils are typically located on the top grill behind an inspection plate.  These aluminum coils, condenser fan and surrounding areas will collect dust and grime making your refrigerator run hot.  Dirty coils make a refrigerator work harder and thus can shorten the life span of the accompanying compressor and other Freon containing components.
Our technicians take special care to carefully remove dirt and grime build-up to ensure your premium fridge is running optimally.
Call us today at 561-689-8885 to keep your built-in refrigerator running perfectly!  We recommend a yearly tune-up for built-in refrigerators.