How Reliable are KitchenAid Refrigerators
When it comes to choosing a refrigerator, reliability is key. You want to be confident that your fridge will keep your food fresh and cool, without breaking down or causing any issues. KitchenAid is a well-known brand that offers a range of refrigerators, from French door to side-by-side models, with various features and capacities. But how reliable are KitchenAid refrigerators really? Is it reliable as its countertop appliances or top rated as KitchenAid dishwashers? In this article, we'll take a closer look at the brand's reputation and customer reviews to help you decide if a KitchenAid refrigerator is a dependable choice for your kitchen.
Overview of KitchenAid Refrigerators
When it comes to kitchen appliances, KitchenAid refrigerators are the perfect way to keep your food fresh and your family healthy. With a wide range of styles and sizes, KitchenAid offers the perfect refrigerator for kitchens. From bottom-freezer models to side-by-side designs, KitchenAid provides options that fit both large and small spaces.
KitchenAid refrigerators are designed to last, with many models featuring advanced cooling systems that keep food fresher for longer. Many models also feature adjustable shelves, so you can customize the space for items of all shapes and sizes. In addition, KitchenAid refrigerators are equipped with water and ice dispensers for easy access to chilled beverages.
For those looking to reduce their energy footprint, many KitchenAid refrigerators come with ENERGY STAR ratings. Models with this rating use less energy than comparable standard models and save money on electricity bills over time.
When it comes to style, KitchenAid makes sure that your refrigerator is as aesthetically pleasing as it is functional. With an array of colors and finishes, you can find a model that fits your kitchen's look perfectly. Plus, some models come with stainless-steel accents or glass shelves for added sophistication.
So, whether you're looking for a sleek modern design or a classic model with more traditional features, KitchenAid has the perfect refrigerator for you. With advanced features like adjustable shelving, ENERGY STAR ratings, and stylish designs, you'll be sure to find a reliable model that fits your needs—and looks great in your kitchen!
Features of KitchenAid Refrigerators
KitchenAid refrigerators are a must-have for any modern kitchen. With their innovative features, competitive pricing, and sleek designs, you can't go wrong with a KitchenAid refrigerator. Whether you're looking for a side-by-side refrigerator for extra storage space or a French door fridge with the latest technology, KitchenAid has something to suit your needs.
Here are some of the wonderful features that make KitchenAid refrigerators stand out:
1. Temperature Control. The temperature control feature on KitchenAid refrigerators is second to none. With precise temperature settings and adjustable humidity levels, you can always keep your food fresh and flavorful.
2. Easy Maintenance. KitchenAid refrigerators come with an easy-care design that makes maintenance an effortless task. You can easily access the interior of the fridge with adjustable shelves and removable bins, so cleaning is a breeze.
3. Energy Efficient. If you're looking to save money on energy bills, then look no further than KitchenAid refrigerators! These fridges are designed to be energy efficient and help you save money eventually.
4. Sleek Design. No one likes an unsightly refrigerator in their kitchen! With its sleek design, KitchenAid refrigerators look great in any setting – from modern kitchens to rustic homes – and will add a touch of style to your space.
These are just some of the features that make KitchenAid refrigerators an excellent choice for anyone looking to upgrade their kitchen appliances. With unbeatable prices and top-notch quality, it's no wonder why so many people choose KitchenAid when it comes time to buy a new refrigerator!
Types of KitchenAid Refrigerators
If you're in the market for a new refrigerator, KitchenAid has an impressive selection of models to fit any kitchen size, lifestyle, and budget. With sleek designs and advanced technologies, KitchenAid refrigerators are designed to keep your food fresh and your kitchen looking stylish. Here's a breakdown of some of the different types of KitchenAid refrigerators , so you can choose the one that's right for you.
French Door Refrigerators
A French-door refrigerator is a great choice if you need extra room in your fridge and don't mind giving up some freezer space. These refrigerators feature two large doors for easy access to the main refrigerator compartment, as well as a bottom freezer drawer. KitchenAid French door refrigerators come with features such as adjustable shelves and humidity-controlled crispers that make it easier to store and organize all your food.
Bottom Freezer Refrigerators 
For those who prefer their freezer on the bottom, KitchenAid offers several options. Bottom freezer refrigerators are more economical than other models because they use less energy than top-freezer models. Plus, they have larger storage capacities than side-by-side or French door models, since they don't have to account for two doors taking up space at the top of the unit.
Side by Side Refrigerators 
For maximum convenience and flexibility, side-by-side refrigerators are hard to beat. They offer plenty of space for both refrigerated and frozen items without sacrificing style or convenience. KitchenAid 's signature CleanFlow Air Tower helps optimize air circulation throughout the refrigerator so your food stays fresher longer. Its adjustable door bins also help you easily customize storage for larger items like milk jugs or juice bottles.
Built In Refrigerator 
If you're looking for something truly unique, consider a built-in refrigerator from KitchenAid . These built-in models blend seamlessly into cabinet design while providing extra capacity compared to standard freestanding units – perfect if you need lots of freezing storage space but don't want it to take up too much room in your kitchen. Built-in refrigerator models also come with features such as quick cool settings which will quickly chill recently added items before taking them back to their ideal temperatures.
No matter what type of refrigerator suits your needs best, you can count on KitchenAid to provide quality craftsmanship, innovative technology, and efficient designs that will keep your food fresh and delicious for years to come. With a wide range of styles available at various price points, it's sure to be an ideal match for any home or kitchen layout!
Things to Love KitchenAid Refrigerators
KitchenAid refrigerators are a popular choice among consumers for many reasons. And here are the things that you might love with KitchenAid Refrigerators.
Multiple Installation Options: Standard Depth, Built-In, and Counter Depth
There are many refrigerators produced by KitchenAid. Hence, there is one to fit every kitchen. KitchenAid offers full depth refrigerators if you want the most storage space and don't worry too much about how well it extends into your kitchen. Check a KitchenAid counter depth refrigerator if you want a reasonably priced refrigerator that blends in well with your kitchen. You can purchase a KitchenAid built-in refrigerator with such a stainless steel door and perhaps a door that is able to be covered inside a similar kitchen cabinet panel if you want to spend extra money on a refrigerator that is completely flush with your cabinets.
Food Preservation: Excellent air filtration and climate control
The freezer and refrigerator can be cooled separately thanks to the two evaporators found in high-end KitchenAid refrigerators. This lessens the risk of freezer burn and enhances the humidity and temperature management in both compartments. Other technology from KitchenAid can also contribute and be helpful:
EverFresh temperature management system. Your refrigerator and freezer stay adequately cold thanks to this sensor-based system, which is available on some models.
Extended Fresh temperature management system. The compressor and fan are activated by this sensor-based system, which recognizes when the freezer or fridge exceeds the ideal temperature and cools that area quickly.​​​​
FreshChill pantry drawer. This deli/snack drawer, which is available on certain KitchenAid refrigerators, features individual temperature settings to maintain the goods at the desired preset temperature.
Max Cool. A temperature that swiftly chills products like meats, beverages, and ice cream that you've just brought from the supermarket.
Preserva food care system. The food preservation method uses two cooling systems, one for fresh food and the other for frozen food. The FreshFlow Produce Preserver and Air Filter both work to reduce odors and prevent over-ripening.
Activated carbon is also used by KitchenAid refrigerators to eliminate smells.
Depending on the model, a KitchenAid refrigerator could have manual or electronic controls. Depending on the products inside, you can adjust the temperature if yours has an electronic control panel. You must slide the controls in the appropriate direction if there are manual controls.
High End Aesthetic
The external door handles on several KitchenAid refrigerators have a slick texture and a bar shape, and the frames are often made of chrome.
Conveniences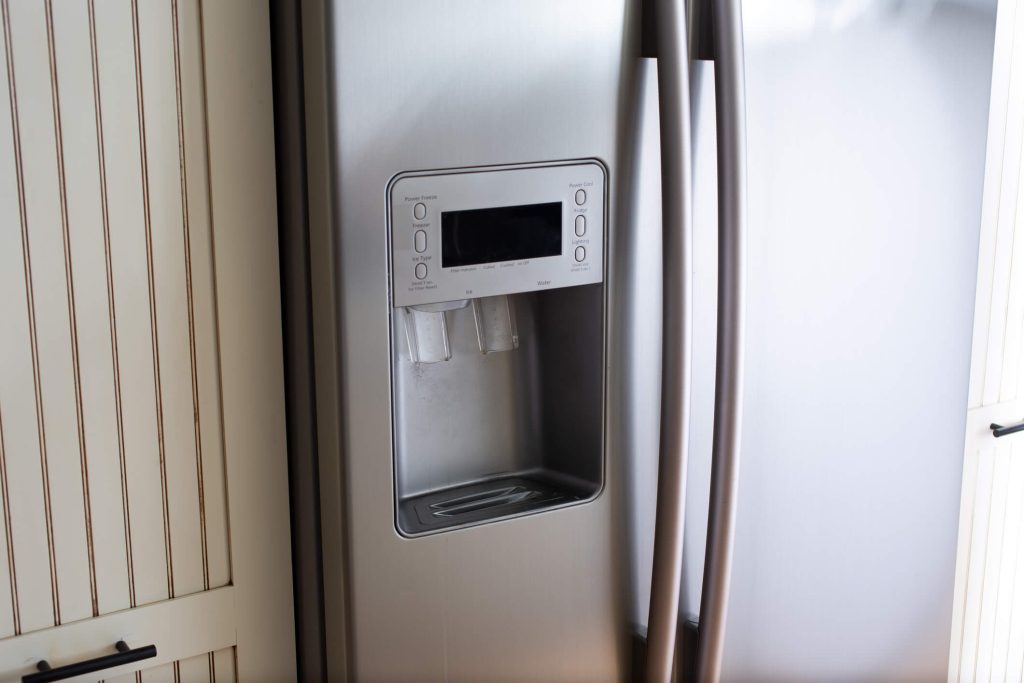 Ice maker and Water. In-door icemakers from KitchenAid take up far less room inside your refrigerator than other models do. Also, we appreciate that some models include an internal water dispenser, which is far more stylish than an exterior one. Another interesting convenience is the Measured Water Fill option. While you're cooking and only need half a cup, you can configure the dispenser to produce exactly that quantity.
Shelving. Look for glass shelves that are adjustable and have a spill-resistant finish. These come with some KitchenAid refrigerators.​​​​​​​​
Lighting.  LED lighting is common in KitchenAid refrigerators.​​​​
Fingerprint proof doors. Smudge-proof stainless steel is used in KitchenAid refrigerators with the company's PrintShield coating.
The KitchenAid Warranty
For most of its refrigerators, KitchenAid gives a fairly conventional one-year warranty; however, built-in refrigerators come with a two-year warranty. The evaporator, condenser, compressor, and connecting tubing are all covered by a 6 year sealed system guarantee with parts and labor, and a longer warranty is unquestionably a plus.
Moreover, KitchenAid offers a FIT System Limited Warranty. You will receive $300 for expert assistance in modifying the current cabinets if your built-in refrigerator doesn't function properly.
Reasons Why You Might Not Like a KitchenAid Refrigerator
Here are some reasons why you might not like a KitchenAid Refrigerator.
Value for money. Although there isn't much of a technological difference between KitchenAid refrigerators and their Whirlpool relatives, you'll often pay more for a KitchenAid refrigerator. While KitchenAid refrigerators lack Wi-Fi, Whirlpool models do. The interior of KitchenAid models is white plastic or "platinum colored" rather than stainless steel, in contrast to other built-in refrigerators.
Lack of KitchenAid colors. Recently, KitchenAid unveiled a series of colorful, commercial-style ranges to go with its well-known stand mixers. People lost it. It seems to reason that if you want a cooktop stove to match the mixer, you might also desire a refrigerator and washer in the same shade. Nevertheless, the company hasn't delivered on its promise as of yet; all it has to offer are panel-ready refrigerators made of classic and black stainless steel.
No WiFi. Those sparkling, industrial-style ranges? WiFi is available. However, none of the KitchenAid models do. Another reason why its refrigerators appear to be falling behind is due to this.
Common Problems with KitchenAid Refrigerators
KitchenAid refrigerators are generally reliable and well-made, but like all appliances, they can develop problems over time. Here are some common issues that you might encounter with a KitchenAid refrigerator:
The refrigerator is not cooling. If your KitchenAid refrigerator isn't cooling properly, it could be due to a number of issues, including a faulty thermostat, compressor, or condenser.
Freezer not freezing. Similarly, if your freezer isn't freezing as it should, it could be due to a malfunctioning thermostat or compressor, as well as a damaged door gasket or defrost heater.
The ice maker is not working. If your KitchenAid refrigerator has an ice maker, it can sometimes malfunction and stop producing ice. This could be due to a clogged water filter, a faulty water inlet valve, or a damaged icemaker module.
The water dispenser is not working. If your KitchenAid refrigerator has a water dispenser, it may stop working due to a clogged water filter, a faulty water inlet valve, or a damaged dispenser switch.
Loud noises. Sometimes, KitchenAid refrigerators can make loud noises, such as buzzing or rattling. This could be due to a number of issues, such as a faulty compressor, condenser fan motor, or evaporator fan motor.
Leaking. If you notice water pooling around your KitchenAid refrigerator, it could be due to a damaged water supply line, clogged defrost drain, or damaged door gasket.
Frost buildup. If you notice frost buildup inside your KitchenAid refrigerator, it could be due to a malfunctioning defrost thermostat or heater, or a damaged door gasket.
If you experience any of these issues with your KitchenAid refrigerator, it's best to consult with a professional appliance repair technician to diagnose and fix the problem.
Tips for Maintaining a Reliable KitchenAid Refrigerator 
Maintaining a reliable KitchenAid refrigerator is essential to ensure it lasts a long time and keeps your food fresh and safe. Here are some tips to help you keep your KitchenAid refrigerator running smoothly:
Keep the coils clean: The coils at the back or underneath the fridge can collect dust and dirt, which can reduce the efficiency of the refrigerator. Clean the coils every three to six months using a vacuum cleaner or a coil brush.
Check the door seals: Make sure the door seals are clean and tight to ensure that the refrigerator stays cool. If the door seals are damaged or loose, replace them immediately.
Keep the refrigerator temperature between 35 and 38 degrees Fahrenheit: This is the optimal temperature range for your fridge to keep your food fresh and safe to avoid food disposal. Use a thermometer to monitor the temperature and adjust the settings as necessary.
Organize your fridge: Proper organization may aid your refrigerator work more efficiently. Keep your groceries like fruits and food ingredients in the appropriate sections and avoid overloading the fridge with too much food.
Avoid slamming the doors: Slamming the doors can damage the door seals and cause the fridge to work harder to maintain the temperature. Gently close the doors to ensure that the seals are tight.
Clean the interior regularly: Clean the interior of your refrigerator regularly to prevent bacteria and odors from building up. Use a mixture of warm water and mild soap to wipe down the shelves and drawers.
Avoid placing hot food in the fridge: Placing hot food in the fridge can raise the temperature and cause the fridge to work harder to cool down. Let the hot food cool down to room temperature before placing it in the fridge. This applies not only to food that being cook on a cooktop, but also to items that come out of wall ovens, microwaves, or baking. It's best to let them cool before transferring them to the refrigerator to avoid overheating the interior and putting extra stress on the compressor.
By following these tips, you can keep your KitchenAid refrigerator running smoothly and ensure that your food stays fresh and safe.
Conclusion
In conclusion, KitchenAid refrigerators are generally considered reliable and well-regarded by consumers. While there have been some reported issues with certain models, such as compressor failures, these appear to be relatively rare and may be covered under warranty. Overall, KitchenAid is a trusted brand that has been in the business of producing quality appliances for many years. However, as with any major purchase, it's important to do your research and read refrigerator reviews before making a final decision to ensure that you choose a refrigerator that meets your needs and preferences.
If you encounter any problems with your KitchenAid refrigerator and want to ease your problems a lot, at AAA Appliance Repair West Palm Beach, we will help you with any kind of repairs needed to your KitchenAid refrigerator. We also do dryer repair for your laundry problems and other appliance repair needs. For more information and questions, call us on (561) 689-8885.
For more information on how https://theappliancepeople.com/ can help you on your KitchenAid Refrigerator Repair, please contact us at (561) 689-8885, or visit us here:
AAA Appliance Repair West Palm Beach
1273 S Military Trail, West Palm Beach, FL 33415, United States