Get Your Ice Maker and Refrigerator Working Again
Fully functional household appliances like an ice maker and refrigerator are necessary for a smooth and efficient culinary experience in West Palm Beach, FL. Unfortunately, like any other appliance, these units can develop issues with time, resulting in ruined food and melting ice. But don't worry! If you need help with your dishwasher, dryer, freezer, or any other appliance, AAA Appliance Repair specializes in high-quality appliance repair in the area. 
Our skilled appliance repair technicians are qualified to handle all major brands, including Bosch and Samsung, from cooktops to washing machines, ovens to refrigerators. We offer trustworthy outcomes and seamless installations with our skilled staff and quality parts, guaranteeing your kitchen and laundry appliances are back in working order quickly. So, if you require dishwasher repair, refrigerator repair, or any other appliance repair service, don't hesitate to contact us immediately and see what a difference our expert technicians can make in your house!
COMMON ICE MAKER & REFRIGERATOR PROBLEMS
Home appliances such as ice makers and refrigerators are essential in any modern kitchen. However, they may meet numerous challenges that could hinder their functionality over time. Some of the most prevalent issues are:
1. FAULTY ICE MAKER
Nothing is more aggravating than when your ice maker stops generating ice or dispenses it inconsistently, especially on hot summer days or during events where ice is in high demand.
2. REFRIGERATOR LEAKS
Finding puddles of water around your refrigerator can be concerning. This problem could be caused by clogged drainage tubes or a faulty water line, and if not fixed, it can result in water damage in your kitchen.
 A refrigerator that does not maintain the proper temperature can cause problems with your food storage. Inadequate cooling can cause premature spoiling and pose health hazards.
4. STRANGE NOISES
Your refrigerator should not make a spaceship take off. Strange noises from the appliance could suggest underlying issues with the compressor or fan motor that must be addressed immediately.
5. FREEZER ISSUES
If your freezer needs to be fixed and freeze foods effectively, it can lead to food waste and require repeated trips to the grocery store.
To solve these ice maker and refrigerator issues effectively and reliably, it's essential to have an expert technician assess the problems and provide an accurate estimate for repairs or replacement parts. Sometimes, investing in a new appliance or considering installation services can be more cost-effective in the long run, especially if the unit is aging or has a history of recurring problems.
Don't let appliance malfunctions disrupt your kitchen routine or laundry room cycle. For these reasons, our company specializes in top-notch appliance repair, including fridge and ice makers. Additionally, we offer installation services for various appliance types, such as HVAC systems, ensuring your home remains comfortable year-round. With our experienced team and quality parts, you can trust us to get your appliances back to peak performance and something you can rely on once again.
SHOULD YOU REPAIR YOUR BROKEN ICE MAKER AND REFRIGERATOR?
If your ice machine or refrigerator isn't working properly, you should consider whether fixing or replacing the appliance is the best option. To make an informed decision, consider the following factors:
1. CHECK YOUR REFRIGERATOR WARRANTY 
If your ice machine is broken, first check the warranty on your refrigerator. Depending on the circumstances, the manufacturer may cover the repair or replacement of the ice maker to get it back up and running. Call the retailer where you bought the refrigerator to discuss your options and future steps.
2. AGE AND PERFORMANCE OF THE APPLIANCE
For refrigerators over their warranty period, assess the appliance's age and overall performance. If your refrigerator is over a decade old, it may be nearing the end of its useful life and may have other problems. In such circumstances, repairing appliances may not be the most cost-effective option.
3. REQUEST A DETAILED REPAIR COST ESTIMATE
Always request a detailed invoice for the estimated expenses before agreeing to repair work. This allows you to determine whether the repair costs are acceptable and justifiable with the overall value of the refrigerator.
4. ICE MAKER REPAIR CONSIDERATIONS
If your ice maker is out of warranty but still relatively new, it is likely that repairing it is worthwhile. Ice makers are relatively simple machines, and an experienced technician should be able to swiftly repair them.
5. INFORM THE REPAIR PROFESSIONAL ABOUT THE REFRIGERATOR TYPE
Make sure to properly specify the kind and brand of your refrigerator when contacting a repair technician. Different brands like Whirlpool and LG may have proprietary technology and systems that alter the repair process. LG appliances, for example, frequently use more advanced computer technology, potentially complicating the repair process.
When dealing with a damaged ice machine or refrigerator, consider the warranty coverage, the appliance's age and condition, and the expected repair expenses. Balancing these variables will help you decide whether repairing the equipment is a viable alternative or purchasing a new refrigerator is a more practical solution. Seek the counsel of an expert technician whenever possible to ensure that you make an informed decision that meets your needs and budget.
BENEFITS OF PROFESSIONAL ICE MAKER AND REFRIGERATOR REPAIR
When dealing with a broken ice machine or refrigerator, expert repair services from our company, AAA Appliance Repair, can provide various advantages that surpass any DIY attempt or novice intervention. Here are some of the reasons why hiring our professionals is the best option:
1. ACCURATE DIAGNOSIS
Our appliance repair experts are well-versed in various ice maker and refrigerator types. They have the knowledge and experience to quickly and accurately identify the source of the problem. Our professional service technicians know what to look for and how to execute the proper solution, whether it's a defective ice dispenser, a leaking refrigerator, or inconsistent cooling.
2. EFFICIENT REPAIRS
With access to the most up-to-date tools, equipment, and technical knowledge, our professionals can accomplish repairs quickly. When dealing with a broken appliance, time is of the essence, and our trained technicians can save you essential time and effort by quickly resolving the problem and restoring your ice maker and refrigerator to perfect operating order.
3. SAFETY FIRST
Appliance repair may require working with electrical components, gas lines, and other potentially dangerous aspects. Throughout the repair procedure, our specialists prioritize safety. You can be confident that your appliances will be handled carefully, reducing the possibility of accidents and maintaining a safe working environment in your house.
4. MAINTAINING MANUFACTURER WARRANTIES
Many ice machines and refrigerators have manufacturer warranties. These warranties may be voided if you attempt DIY repairs or hire untrained technicians from non-professional repair firms. Choosing our professional repair means that your appliance's warranty stays intact, giving you additional peace of mind and protecting your investment.
Our stellar reviews and delighted customers speak for themselves at AAA Appliance Repair. We take pleasure in being a well-known name in the industry and are known for giving excellent service at reasonable prices. Our service area is extensive, and we provide experienced cleaning guidance and information on how to care for your appliances. You can count on us for excellent results, quick repairs, and a dedication to ensuring your ice machine and refrigerator perform smoothly.
Don't risk causing damage to your appliances or suffering from a lack of adequate cooling and refrigeration—rely on the best appliance repair service provider in West Palm Beach, and we'll have your appliances up and running in no time. Your satisfaction is our top goal, and we are the place to go for dependable goods and expert care for your ice maker and refrigerator needs.
HOW TO TROUBLESHOOT YOUR ICE MAKER AND REFRIGERATOR
Dealing with an ice maker that suddenly stops working can be very frustrating, but don't panic! We'll guide you through some basic steps to help you identify the problem and maybe fix it yourself with minimal effort. The following tips will provide vital information even if you eventually seek expert assistance.
1. Check Ice Production – First, evaluate whether or not your ice maker is creating ice. If you detect ice in the tray, but it isn't ejecting, this could suggest a problem.
2. Check Ice Cube Size and Quality – If the ice maker produces ice, but the cubes vary substantially in size or quality, changes may be necessary. Inconsistent ice cube manufacturing could be a sign of a larger issue.
3. No Ice Production – If your ice maker isn't creating ice, the problem could be with your water line. Check that the water supply to the refrigerator is connected and working properly.
4. Examine the Electronics – Examine the electronics of your ice machine. If the buttons respond to your orders and you can hear the motor operating, the problem isn't always electrical.
5. Take Note of Specific Details – If you don't have access to an experienced appliance repair service, it's critical to take note of specific facts. Describe the type of ice you get from your refrigerator (if any) and any weird noises or behaviors you've noticed.
By following these instructions, you may troubleshoot your ice maker in a manageable manner. Remember that fundamental appliance problem do not necessarily necessitate expert knowledge. If you discover the problem is beyond your abilities, contact a local appliance repair company in West Palm Beach and the nearby areas. A professional repair of your appliances assures a safe and quick repair, saving you time and money in the long run.
AAA APPLIANCE REPAIR SERVICES
We take pride in being a one-stop shop for all of your appliance repair needs at AAA Appliance Repair. Our comprehensive list of services includes the following:
1. Refrigerator Repair – Whether your refrigerator is not cooling correctly, leaking, or producing unusual noises, our trained technicians can quickly diagnose and remedy your refrigerator problem, ensuring your food remains fresh and safe.
2. Ice Maker Repair – Our specialists can quickly resolve the issue if your ice maker needs to produce or dispense it inconsistently. Hence, you always have ice during those hot summer days or celebrations.
3. Washer Repair – From problems with washing cycles to water leakage, our skilled technicians have the skills and tools to restore your washing machine to peak efficiency, eliminating the bother of laundry days.
4. Dryer Repair – Broken dryers can be inconvenient, leaving your clothing moist or not drying. Our technicians can diagnose and repair your dryer, allowing you to enjoy freshly dried clothing again.
5. Dishwasher Repair – If one of your dishwashers fails to clean dishes correctly or has drainage issues, our experts can restore its efficiency, ensuring your dishes arrive pristine every time.
6. Oven Repair – If your oven isn't heating evenly or the temperature isn't consistent, our professionals can troubleshoot the problem and return your oven to delivering great cooking results.
7. Cooktop Repair – Whether you have a gas or electric cooktop instead of a stove, our trained technicians can perform repairs on various models, ensuring your cooking experience is as trouble-free as possible.
8. Freezer Repair – A faulty freezer might result in food spoiling and waste. Our professionals can quickly solve any difficulties, ensuring your freezer maintains the proper temperature to keep your food safe.
9. Garbage Disposal Repair – Blocked or broken garbage disposal may cause havoc in your kitchen. Our experts will unclog and repair your garbage disposal, returning functionality to your kitchen sink.
Our skilled technicians can service appliances from various manufacturers, including Bosch, Samsung, Maytag, GE, LG, and more. You can rely on our technicians' knowledge and precision to provide dependable and efficient repairs, using genuine components to ensure the longevity of your appliances. We understand how inconvenient a broken appliance can be, so we work hard to deliver timely and dependable services to thousands of individuals in the area.
Our team is well-prepared to handle any appliance problem that comes our way, from minor repairs to sophisticated part replacements and even AC-related concerns. Customer satisfaction is our primary goal at AAA Appliance Repair, and we're dedicated to making your appliance repair experience stress-free and seamless.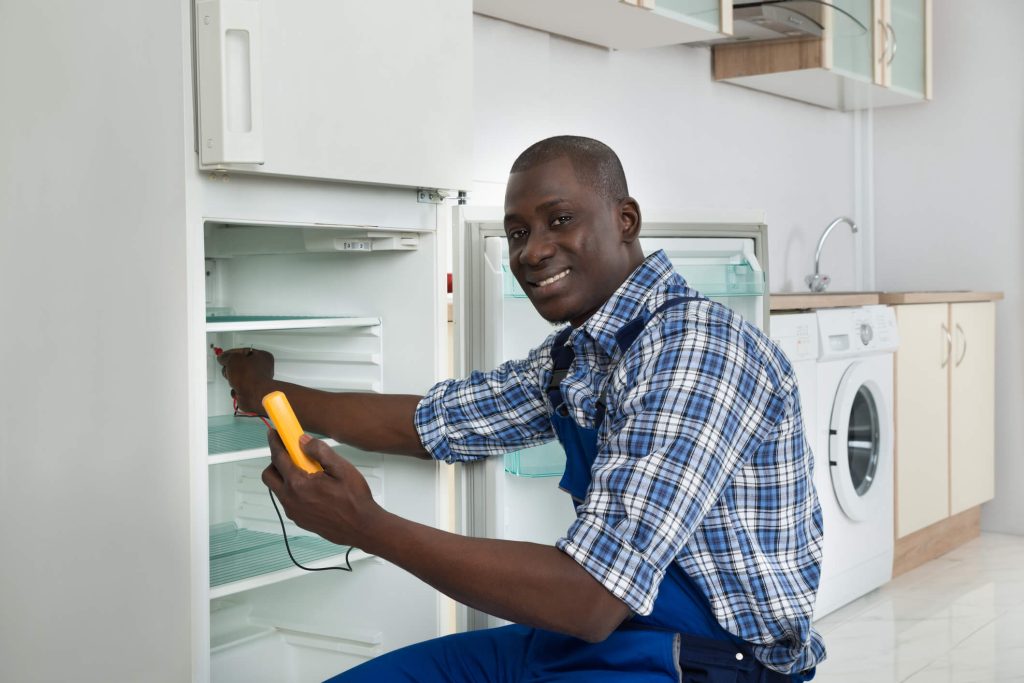 ICE MAKER AND REFRIGERATOR MAINTENANCE TIPS
In the world of appliances, prevention is far better than cure. Like you would maintain your car or lawn mower to ensure peak performance, your ice machine and refrigerator require routine maintenance to extend their lives and avoid costly repairs. Here are some essential maintenance tips to keep your appliances in good working order:
1. Clean Condenser Coils Regularly Your refrigerator's condenser coils ensure appropriate airflow and cooling performance. Dust and debris can accumulate on these coils over time, impairing their functioning. Cleaning the condenser coils regularly ensures that your refrigerator runs efficiently, saving energy and money in the long term.
2. Inspect and Replace Water Filters – Water filters are included in most new refrigerators to ensure clean and fresh water and ice. These filters must be replaced regularly, according to the manufacturer's instructions. Regularly inspecting and replacing the water filter will improve water quality and prevent clogs and ice maker problems.
3. Clean the Ice Maker and Ice Storage – If cleaned sparingly, the ice maker and storage space can become breeding grounds for smells and mildew. By keeping these sections clean, you may avoid unpleasant odors and ensure that your ice is always fresh and safe to use.
4. Avoid Overloading the Refrigerator – While filling your refrigerator may be tempting, doing so might restrict appropriate airflow, resulting in uneven cooling and potential appliance strain. Keep the suggested storage capacity in mind to ensure the refrigerator runs efficiently.
5. Keep Refrigerator Door Seals Clean – Your refrigerator's door seals or gaskets are essential to keep a tight seal and prevent cold air from escaping. Clean these seals regularly to keep them free of debris and damage. A well-sealed refrigerator not only maintains chilled air more efficiently but consumes less energy and saves you money on electricity costs.
These basic maintenance guidelines can help your appliances work optimally and avoid costly repairs or replacements. Taking care of your appliances benefits your life and your wallet while also helping to reduce electronic waste, making it a win-win situation for both you and the environment.
We understand the importance of appliance care at AAA Appliance Repair, and our team of professionals is ready to help you with any appliance repairs or problems. You can rely on us to keep your appliances functioning well for years to come, thanks to our low price and competence in a wide range of appliances, including ranges and more.
ICE MAKER AND REFRIGERATOR BRANDS WE CAN REPAIR
As a professional appliance repair service, we take pride in our expertise in repairing a wide range of ice maker and refrigerator manufacturers, restoring-your appliances to full operation. Our expert technicians have the knowledge and experience to handle various makes and models, offering speedy and effective repairs.
1. Kenmore – Kenmore refrigerators and ice machines are well-known for their dependability and functionality. Our technicians are experts at diagnosing and resolving Kenmore appliance problems, ensuring that your appliances continue to serve you for years to come.
2. LG – LG appliances, such as ice machines and refrigerators, frequently feature modern technology. Thanks to our extensive training and access to the most up-to-date materials, we can confidently tackle LG appliance repairs, addressing any problems that may occur.
3. Whirlpool – Whirlpool is a respected company that provides long-lasting and innovative appliances. Our crew knows whirlpool systems and can properly troubleshoot and repair them, whether an ice machine or a refrigerator.
4. Samsung – Samsung products, such as ice machines and refrigerators, have cutting-edge features. You may be confident that our professionals are up to date on the latest innovations, allowing them to handle Samsung repairs with precision.
5. Frigidaire – Frigidaire is a well-known brand that offers a wide selection of ice makers and refrigerators. We have extensive expertise of Frigidaire appliances, allowing us to provide reliable diagnoses and solutions to any problems.
6. GE – GE or General Electric appliances are well-known for their endurance and quality. Our team has significant expertise repairing GE ice makers and freezers and maintaining and extending their lives.
7. Maytag – Maytag appliances are designed to withstand heavy use. Our specialists are knowledgeable about frequent issues with Maytag ice machines and refrigerators, and they provide dependable repairs.
8. KitchenAid – KitchenAid is a premium appliance manufacturer noted for its sleek looks and functionality. We also repair KitchenAid ice makers and refrigerators, restoring their performance and appearance.
9. Bosch – Bosch appliances are well-known for their efficiency and cutting-edge technology. Our professionals are well-trained to handle Bosch ice maker and refrigerator repairs, assuring the functioning and energy efficiency of the appliances.
10. Sub-Zero – This high-end brand is best recognized for its luxury refrigeration products. Our crew specializes in preserving the premium performance of Sub-Zero ice machines and freezers.
11. Amana – Amana appliances provide consistent performance for homes. Our professionals are well-versed in Amana ice maker and refrigerator systems, allowing us to provide quick and effective repairs.
12. Viking – Viking appliances are well-known for their high quality. Our professionals are equipped to handle Viking ice maker and refrigerator repairs, guaranteeing that these appliances reach the high standards required.
Regardless of the manufacturer of your ice machine or refrigerator, we are committed to excellence and customer satisfaction. When you entrust us with your appliance repairs, you can rest assured that our professional staff will do the task quickly, using authentic components and following industry best practices. We are committed to increasing your appliances' life, saving you time and money in the long term.
FREQUENTLY ASKED QUESTIONS (FAQS) ABOUT ICE MAKER AND REFRIGERATOR REPAIR
Q1: How long will it take to repair my refrigerator?
Ans: The length of the repair is determined by the nature of the problem. Our expert technicians work quickly and efficiently to finish most repairs on the same day.
Q2: Do you use original parts for repairs?
Ans: Yes, to assure the quality and endurance of our repairs, we use authentic manufacturer components.
Q3: Is your service available in my area?
Ans: We proudly serve West Palm Beach Gardens and the surrounding areas. If you need more clarification, call us; we'll gladly assist you.
AAA Appliance Repair's commitment to excellence distinguishes us as the chosen appliance repair company in South Florida. We understand how critical it is for your essential appliances, such as ice makers and freezers, to function correctly. When unexpected malfunctions occur, our highly qualified specialists are on hand to give excellent service and support, handling all your appliance troubles with precision and care. Whether you require a quick remedy for your dishwasher or a thorough repair for your washers, our experts are always available to listen to your problems and give customized solutions that meet your individual requirements.
We understand how essential your time and money are, so we provide estimated and affordable costs for all our services. Our emphasis on excellent workmanship means that we efficiently restore your appliances to their peak function while causing the least amount of inconvenience to your daily routine. Our technicians have extensive knowledge and competence in working with many appliance brands, including Whirlpool and others, and have what it takes to perform any job properly.
We serve our local consumers with pride and passion, from the vibrant towns of Boynton Beach to the bustling neighborhoods of Delray Beach. When you pick AAA Appliance Repair, you're not just a customer; you're a member of our family, and our dedication to providing excellent customer service ensures your pleasure throughout the whole repair process. So, if you need help with your appliances, feel free to arrange service or schedule an appointment with us today. Contact us at (561)-689-8885 and let us quickly restore comfort and functionality to your house.